What Program Is Best For Elementary Reading?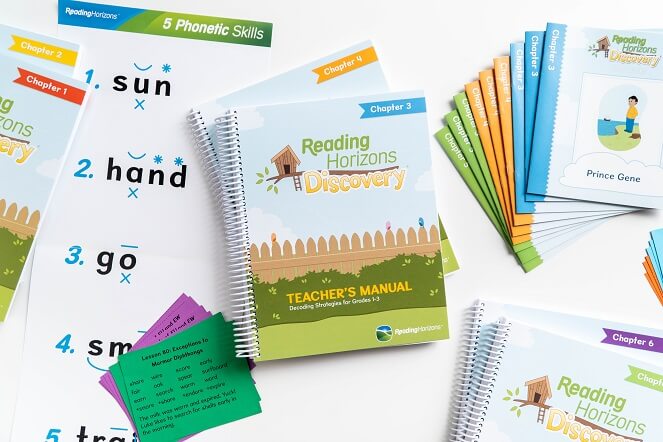 Are you looking for a new reading program for your elementary students? Wondering what the best elementary reading curriculum is? We're a little biased, but our customers aren't. From the beginning of 2018 to the summer of 2019, we collected over 500 new success stories from our customers. Here are just 15 examples of why our customers think Reading Horizons is the best elementary reading curriculum for teaching foundational reading and spelling skills:
---
"Reading Horizons provides a thoughtfully laid out literacy program with user-friendly materials and resources. The skills taught are in a sequential, useful order for students to master."
—Tri-County School Corporation, IN
---
"I had several students who came into second grade as non-readers, some not knowing all of their vowel sounds. As we have progressed in the program these students are reading, using the skills they have learned to decode words. One student, in particular, came in from being homeschooled at below a level A in Fountas and Pinnell. After being tested at the beginning of December after just 3 full months of Reading Horizons, he is now a level D independently."
—American Leadership Academy, UT
---
"I love how Reading Horizons builds upon itself and makes it possible for the lowest readers to have a way to decode as well as encode. I love that it makes it possible for all to read."
—Cassia County Joint School District, ID
---
"The Reading Horizons approach is simple and can easily be adapted to students' levels of achievement. Students enjoy the stories and actually look forward to the comprehension questions at the end. They like the pictures as well. The stories are simple, follow the skills that are taught, and increase student confidence in their reading."
—Saint Mary Cathedral School, IN
---
"I work in an urban area where most of my students speak English as their second language. I have worked at this school for five years in the first grade. This is my first year teaching with Reading Horizons. On our recent NWEA map scores, all of my ESL students that I teach in reading met or exceeded their reading growth score. Many of them grew by double-digit numbers. We have had the highest scores in Reading in First Grade than we have in two years. I love the way that Reading Horizons meets my students where they are. It allows them to feel successful and not get frustrated with materials and curricula that are too challenging for them. I have seen my children succeed in reading more this year than any other year I have taught. I have shared my thoughts and inspiration with my administration and with all of my colleagues at my school. I am truly inspired by this program and I have seen it work. I believe that when we teach a child to read, we give them the greatest gift we can give them. If they can read, they can succeed in every other aspect of their academic lives. I am so excited to be able to share this gift with my students and with other teachers so that they can also share the gift of reading with their students. Reading Horizons works. I love it and I am a lifelong believer in its power and influence."
—Shelby County Schools, TN
---
"My first-grade students are really enjoying this program. It gives them an understanding of the code of reading that they can hold on to. It is amazing to hear my students explain the rules of reading at a first-grade level – rules that many of my colleagues do not know (myself included until this program!)"
—Berne-Knox-Westerlo Central School District, NY
---
"I love how everything makes sense! Reading Horizons is very straightforward, easy to use, and active."
—Challis Joint School District 181, ID
---
"I love that my students understand why a word is read a certain way, why vowels make a long or short sound. Reading Horizons isn't just a bunch of rules. It explains why words work the way they do. It gives them tools they can apply in everything they read."
—Cullman County Schools, AL
---
"This school year we have had many districts and schools visit us for other reasons, however, what becomes apparent to them quickly is our phonics program. They immediately want to know what we use and of course, we are happy to tell them! We have been "tooting" the Reading Horizons horn for some time now."
—Levy County School District, FL
---
"I had a student who could not crack the reading code, even with 1-1 support. It was the Reading Horizons program that broke it down into the steps she needed to become a reader."
—Inspire Charter Schools, CA
---
"I like the Reading Horizons program because my children are learning and I'm learning too. I was already a fluent reader however I am learning why and how words are broken into syllables."
—Marion School District, AR
---
"I am so fortunate to have the opportunity to implement Reading Horizons. This is a fantastic tool that has helped me get my students back on track with reading skills. It is easy to use, fun, and holds their attention. It's helping them with reading, spelling, sequencing, motor skills, grammar, comprehension, phonics, and computer skills! I have quite a few students with Dyslexia and this program has exploded their reading ability over the past two years. It has helped my students make leaps and bounds! I love and appreciate the Reading Horizons program and tell people about our successes with it all the time. I am excited to continue implementing it for years to come."
—JR Smith Elementary, UT
---
"The marking system and the progression of introducing letter combinations is a sound way for students to understand phonics."
—St Paul Charter, MN
---
"I have seen students' reading rate and decoding skills improve significantly at my school since we have added Reading Horizons to our curriculum. It gives teachers a very explicit and consistent way to teach phonics."
—Shelby County Schools, TN
---
"Reading Horizons has opened my students' eyes to what it's like to have success in reading. My students, in past years, were constantly frustrated with the programs we have provided for interventions in reading. I felt that the students would hit a ceiling and then give up with little movement in their oral fluency scores. Behavior problems would then occur to avoid working with any element that involved Reading. Now… with the Reading Horizons program… my students are starting to feel success. The students are actively engaged in class and they constantly ask to go on the software. When I give Spelling tests, the students are utilizing the markings (how they mark up their words in Reading Horizons) to assist them in spelling out the assigned words! I have many students who have very short attention spans and the time on-task I see with Reading Horizons is amazing! They respond using the kinesthetic movements they were taught at the very beginning of the program. When given direct instruction, I know they are paying attention and participating when the movements are involved. They also ask to use the software when they have free time. I have students that are feeling more confident and want to read or attempt to read material to adults. My students ask other teachers if they can read to them and are actually excited about Reading. I also love the skill checks that are included in the units. It is a nice reflection of what the students have mastered and what additional instruction the students may need."
—Pittsburgh Public Schools, PA
---
Need more proof? View more success stories, reviews, case studies, and research studies about the Reading Horizons program.